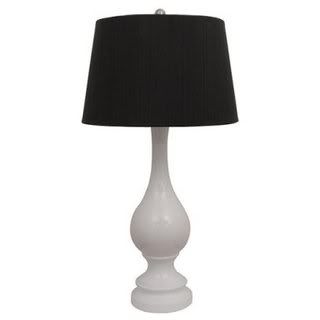 I think I'm in love. I saw this fabulous lamp at Target this weekend during my fruitless attempt to buy a shredder for my mom. It was in the new Global Bazaar section and it just made me swoon. I admit it looks better in person than in the picture so if you aren't swooning, I forgive you! I've been looking for two lamps to put on the dresser behind the couch because I think the lines of the Not lamp from Ikea are just all wrong in my room. I am a bit concerned about the light though; the Nots provide excellent uplighting that I'm just not certain these black-shaded lamps can match.
The funny thing is that the lamps I've been redoing are also now white porcelain (long story to be covered another time with photos) and I love them. They are too short to use in the living room, but will be excellent additions to my bedroom once I solve the lampshade fitter/socket problem. These Target lamps are 33" high which will bring them almost to the height of the Nots in the living room, but with much more dramatic lines.
Thoughts on these lamps? They were marked $69.99 in the store which is why they fell into the "think about" category; I just found out online that they are on sale this week for $49 which may move them into the "buy and try" category...